There's a new Facebook ad format and it's way underutilized. Ready to take advantage?
Now that Messenger can operate an entire personalized shopping experience, Facebook has created ad formats that will drive customers straight to Messenger – instead of a website – to capitalize on the opportunity in how one-to-one engagement increases purchase intent, and ultimately sales.
How they work
Click-to-Messenger ads look almost identical to Facebook ads that click to site, it's their functionality that holds the key difference.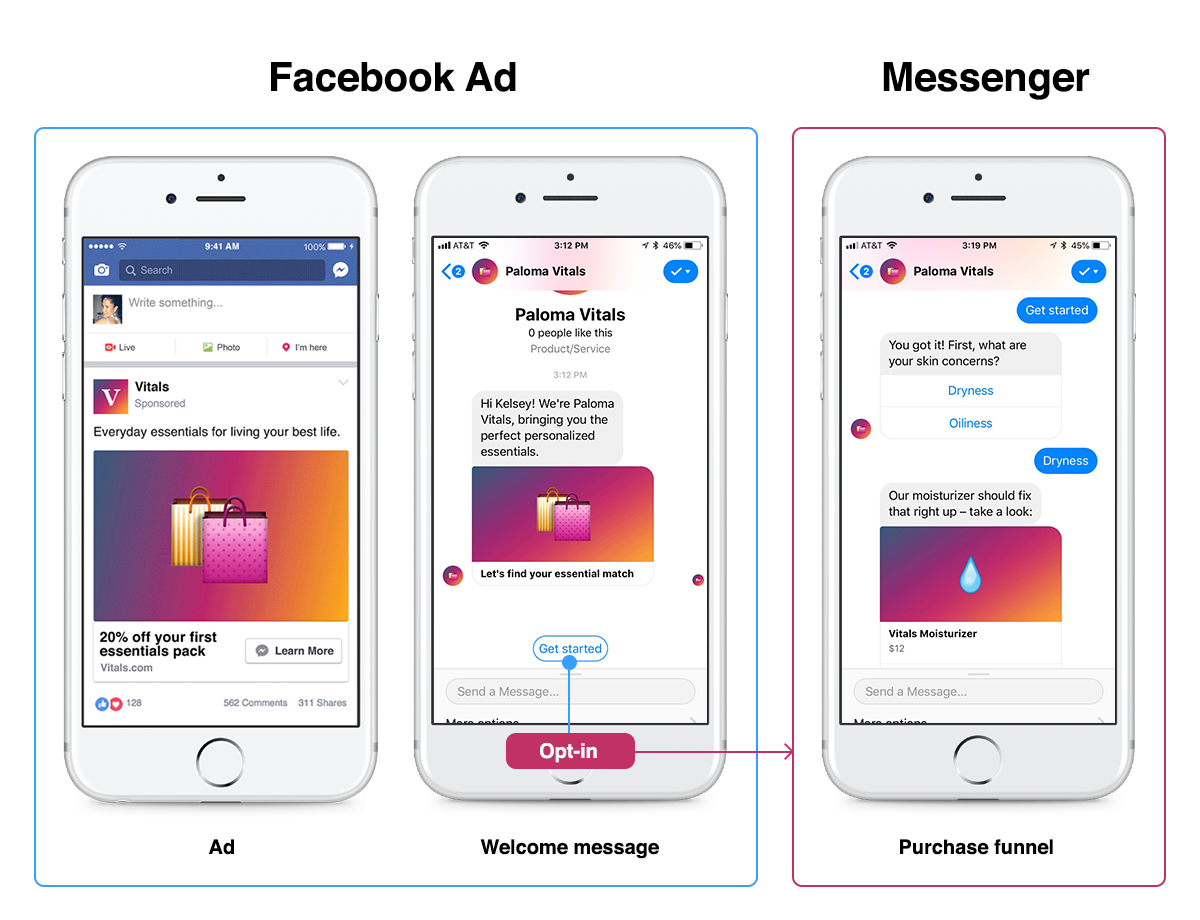 The core difference from the audience point of view is that the call to action button includes a Messenger icon. Because it can be subtle, it's best practice to prepare the user to be linked into Messenger by referring to the experience somewhere in the ad creative. (This will help keep drop-off rates down.) For example, you can use headlines like "Chat to take the quiz" or "Find your match with our new Messenger experience", or include chat bubbles in your imagery.
Once a user clicks on the ad, they're either deep linked into Messenger (on mobile) or taken into a new Messenger tab (on desktop). In Messenger they're greeted with a welcome message to encourage an opt-in. Once the user sends a message, by tapping on a button or typing something in, they're considered opted-in with your brand on Messenger, enabling you to reach back out to them any time.
This is a huge difference between Messenger and site – once someone starts a conversation you know exactly who they are and have a direct channel to re-engage them in.
These ads can be targeted to your typical audience, but because of the format, Facebook will automatically target people who are more likely to use Messenger, giving you an opportunity to find new audiences.
Running the ads
There are two ways to run ads that click into Messenger:
By setting the Campaign Objective to Messages
By setting the Campaign Objective to Conversions, and the Ad Set Conversion Event Location to Messenger
The second option works great if you use the Facebook pixel, and will allow you to track your standard conversion point. Anyone who clicks on the ad, chats on Messenger, clicks through a product and into your site – where they can ultimately convert – will show up as a result, or can be retargeted.
Once you have your campaign and ad sets ready, you're onto the ad. Here you'll setup your creative as you normally would (don't forget to include a reference to the Messenger experience.)
For the CTA, we see that "Learn more" and "Shop now" perform better than "Message us".
At the bottom there's an extra section for Messenger Setup, where you can edit the Welcome Message that's displayed to customers that have just clicked through an ad. Depending on what you're using for Messenger automation, this message can be set up in the ads manager manually, or by dropping in the code that connects to your experience from your automation provider.
We typically recommend keeping this simple with:
Text that greets the customer and introduces the brand's value
Image that was used in the ad creative
Headline reiterating what the experience will be
One quick reply that says "Get started"
Ultimately, we want this message to feel as low friction as possible to get someone opted in. For example "We'll find your perfect match" as a title, and "Get started" as a quick reply. Always position it with what you have to offer the customer, not what the customer will have to do.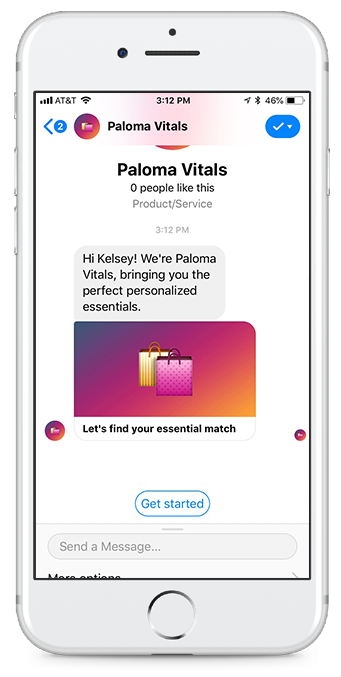 Once it's setup, select Preview in Messenger to have a preview sent to your personal Messenger account, where you can then test the flow.
If everything looks good, you're ready to launch your campaign!
What to expect
CTM campaigns target people who use Messenger, so you can expect to see a variation and expansion in your audience reach.
Early parts of the Messenger funnel can appear to perform lower then benchmarks, like CTR for example, but don't forget to focus on your end goal! The people clicking are more likely to bond with your brand and buy your products. This is how CTM ads end up driving down acquisition costs and improving ROAS.
And finally, the very fun bonus of Messenger: With every lead that opts-in, you know exactly who they are and have a direct line of communication to re-engage them. Retargeting in Messenger is 100% frictionless – no creepy ad retargeting for everyone that visited the site. Ping them in the place they started a conversation with you. It's why open rates and click throughs are 3-10x that of email. Sponsored Messages help make this possible, but more on that later.
Overall, Messenger is a great addition to your suite of acquisition channels, and Click-to-Messenger ads are the starting point for reaching new customers for less.