Joybird, a furniture retailer with a classic Mid-century aesthetic and a deep commitment to quality, is reimagining custom furniture for the digital era.
The team wanted to create an exceptional, one-of-a-kind product discovery experience to match customers with their handcrafted furniture. With Paloma's automated personal shopping conversations, Joybird found an opportunity to guide customers on a unique journey for their precise needs.
Along the way, they were able to translate deeper customer insights and relationships into increased sales and improved return-on-ad-spend to meet their marketing objectives.
"In partnering with Paloma, we were able to implement and execute an end-to-end marketing strategy that used Messenger to engage with customers and foster a strong relationship with them. Because of the great results we've seen, we have dedicated a good portion of our ad budget to our Messenger strategy. The team at Paloma has been instrumental in helping us create and analyze campaigns built on Facebook Messenger and is now a critical marketing and strategic partner for us."
- Eric Tsai, Vice President of Marketing and Analytics, Joybird
With Paloma as their chat-based shopping platform, Joybird was able to craft a comprehensive messaging strategy using Click-to-messenger ads to introduce an automated interior design consultation. In partnership with the experts on Paloma's managed services team, Joybird started by developing an in-depth quiz to help customers to explore their design preferences, from favorite style to specifics around fabric, color, and layout.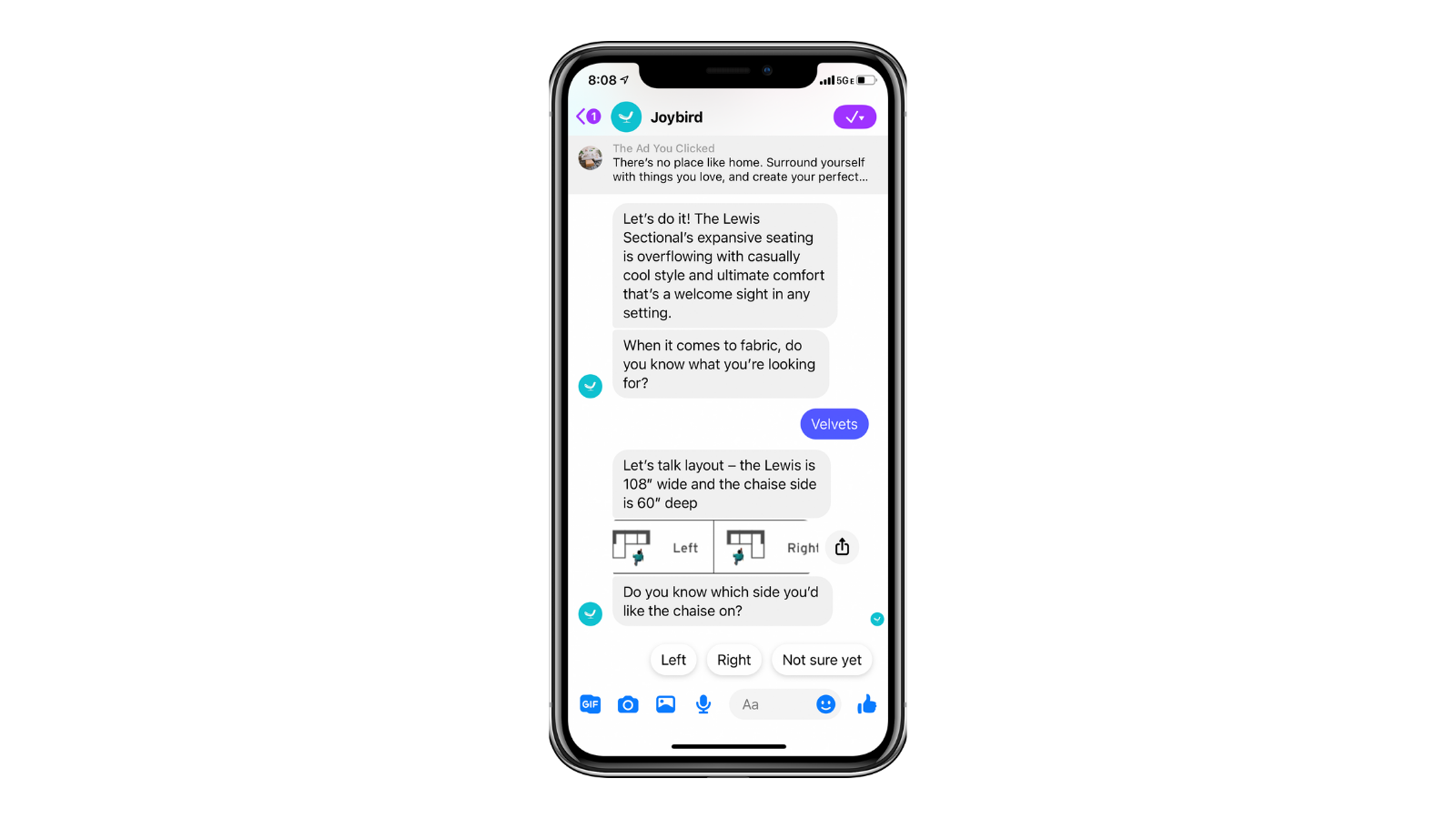 Not only did customer responses to these questions enable Joybird to offer highly personalized product recommendations, but every answer helped them to deepen their long-term understanding of their customers— enabling even more custom offers and communications in the future.
Based on these results, the Joybird team has expanded their investment in conversational commerce. They have since developed several additional quizzes, guides, and other experiences that they now run across Messenger and Instagram DMs, with the help of the Paloma managed services team.
The results
The Joybird team not only met their goal of deepening customer relationships through automated personal shopping conversations, but significantly outperformed previous ad campaigns. Results included:
3X increase in ROAS with ads that Click to Messenger compared to ads that clicked to website
3X conversion rate with ads that Click to Messenger compared to ads that clicked to website