Instagram DMs: This holiday's new sales channel
It's not too late to update your holiday playbook to drive more revenue with DMs.
Learn from the experts in our live webinar
As we enter the holiday season, organic social teams everywhere are busy plotting compelling new campaigns to engage and entice their audiences. From shop quizzes to product drops to promotions and giveaways, tried and true tactics from previous seasons are likely to feature prominently in many brands' plans.
Yet some things about this holiday season look a little different: from the threat of supply chain disruptions to platform changes in analytics and attribution introducing uncertainty throughout the funnel, brands face a landscape where new approaches will be critical for success.
At the top of the list: Making more (revenue) out of organic channels.
Turn organic social into a performance channel this holiday season
Directly tying organic social efforts to revenue growth has always been tricky. New channels like Instagram DMs drive revenue by creating a more direct, personalized, and measurable shopping experience that converts. Brands can scalably capitalize on their social engagement, while building brand affinity along the way.
On November 11 at 11 AM PT/2 PM ET, Paloma founder and CEO Kelsey Hunter will sit down with special guests Auri Korva, product marketing manager at Facebook, and Hannah Edwards, Social Media and Community at Caraway, for a deep dive into the opportunities that Instagram DMs offer this holiday season to emerging and established eCommerce brands alike.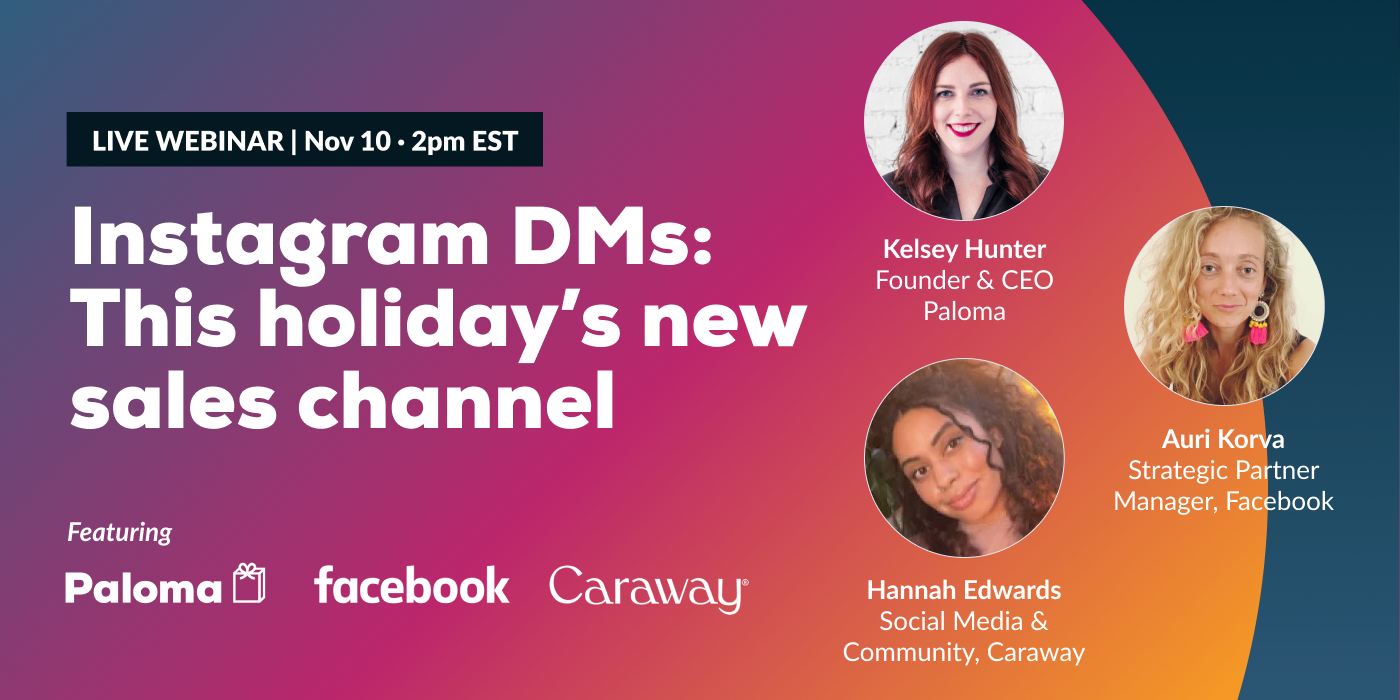 You'll Learn
Strategies and best practices to drive revenue through DMs
How to translate your holiday campaigns – from shop quizzes to product drops to promotions and contests – into DM campaigns
Easy setup with Paloma (no coding required)
Ways to drive traffic to your DM campaigns
How to measure performance & resultsKey insights and results from top eCommerce brands like Caraway, already pioneering these channels
Sign up now. Everyone who registers will receive a free, step-by-step playbook for Black Friday IG DM campaigns!