How to Sell Handmade Products on Instagram
Whether you stitch, build, paint, or something in-between, each handmade product you create has its own unique story. Step inside to learn how to start selling your handmade products on Instagram!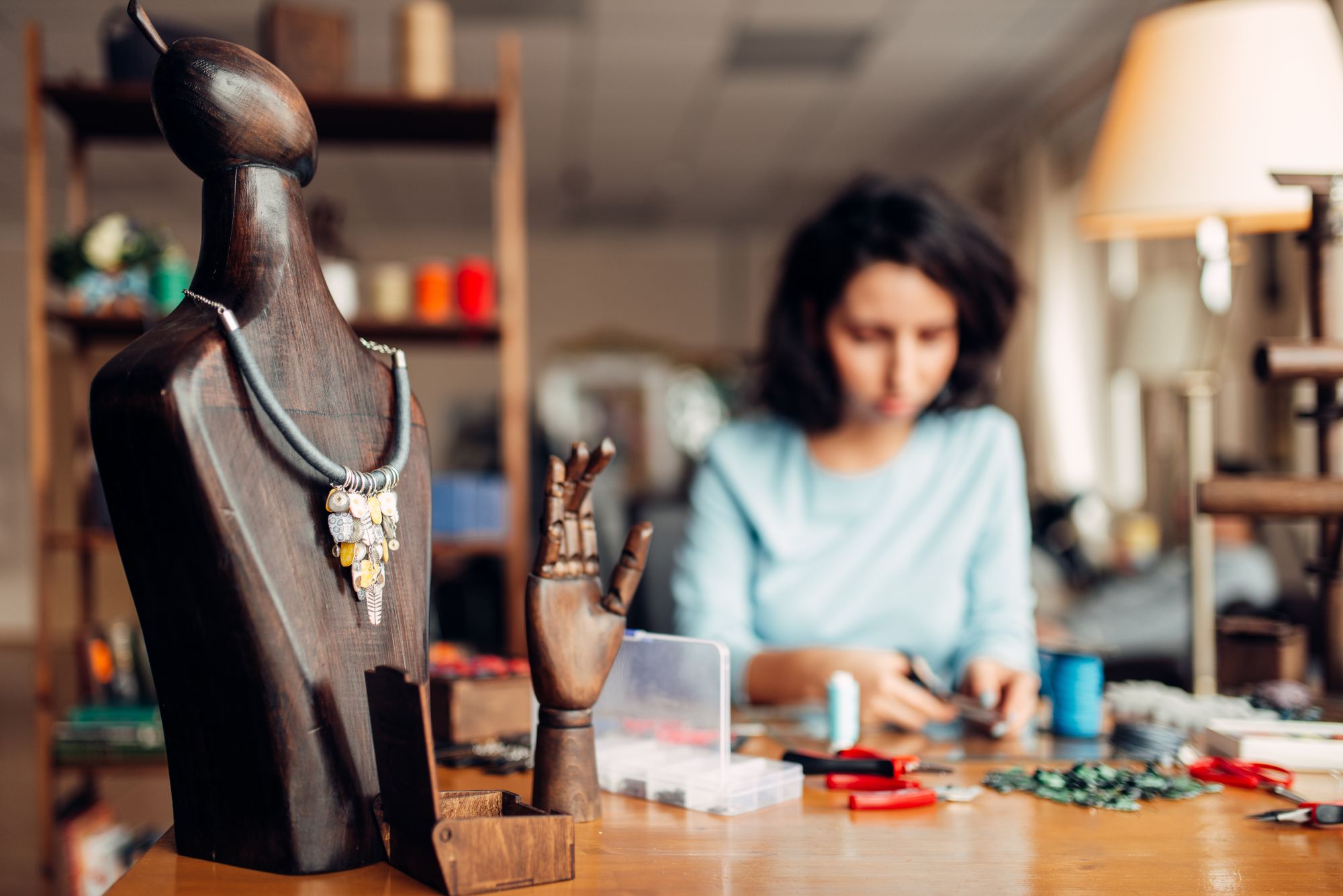 Table of contents
Whether you stitch, build, paint, or something in-between, each handmade product you create has its own unique story. Telling – and selling – that story can be a hassle, taking time and energy away from doing what you love – creating! Luckily, it doesn't need to be so hard.
With 1.5 billion monthly users, your customers are already on Instagram, browsing products and seeking inspiration. It's the perfect channel to reach your audience where they are and sell your handmade goods.
As important, Instagram makes it easy to sell. If you can post a photo, write a caption, send a message (psst – called a Direct Message or DM), you have the tools to turn fans into buyers.
Gain new followers without leaving your workshop. Take orders directly from an Instagram message without washing the clay off your hands (see how Paloma makes this happen). Grow your business, while freeing your time and energy to keep doing what you love.
To help you start selling on Instagram, we're simplifying:
How to Create a Simple Instagram Strategy
How to Save Time with 4 Instagram Post Themes
How to Make Your Feed Both Shoppable and Personal
Need a refresher? Learn How to Sell Anything on Instagram with our comprehensive guide.
Selling on Instagram – a Simple Strategy
Instagram success hinges on regularly posting content that interests your customers. Building a content strategy removes the dreaded guesswork of "what do I post?".
Set aside time upfront to think through your:
Strategy – what types of posts will you share? What are your goals? Don't stress too much here, your strategy will evolve over time.
Aesthetics – what style or visual cues will you include, so your audience recognizes your posts at-a-glance?
Posting cadence – how frequently will you share content, and what is your schedule?
With these decisions made, it's time to plan your Instagram posts. There are endless ways to share your craft and creative energy - a huge advantage on Instagram. "Endless", of course, can be overwhelming. Don't let the overwhelm win – make things easy on yourself by coming up with themes for your posts.
Products, People, Process, and Promotions are simple and intuitive themes to start selling your handmade goods on Instagram. Let's explore each theme.
4 Instagram Post Themes to Sell Your Handmade Products
Theme 1 - Highlight Your Products
As a highly visual social platform, Instagram is the place to show off your products.
Luckily, you do not need to hire a professional to get high quality product photography. All you need is a smartphone, a steady hand, and a little creative inspiration, and you're in!
Get newcomers' attention and keep your audience hooked by using a variety of formats to showcase your products in different situations. A few popular Instagram post formats include:
Show Your Products In-Use - Action Shots
Highly influential, action shots show your products in-use. Customers visualize themselves enjoying or experiencing your product and are motivated to chase that feeling – by buying and trying it for themselves.
For example, pet lovers won't be able to resist picturing their own fur babies wearing one of @greyt.escape.collars handmade polka dot collars.
How to Take In-Use or Action Shots
Choose an authentic setting and subjects reflecting your target customer
Put your subjects at ease and don't be a stage mom – going for candid here!
Take practice shots (in advance) to ensure you have good lighting
Pay attention to details (important elements are visible, copy is legible (if needed), focus is on the product or evoking emotion).
Embrace light editing – an Instagram filter can smooth imperfections or enhance the vibe, just don't overdo it.
Promote Product Drops or Limited-Edition Releases
Break out of your posting norm by positioning your items as a new "product drop" or limited release. These exclusive access posts generate both excitement and urgency - a winning combination to sell handmade products.
Is there anything cuter than @june_n_june_handmade toddler-in-a-tutu announcement for their custom puzzles product drop?
How to Stand Out with Product Releases:
Let Your Customers Do the Talking – UGC and Testimonials
Hearing from happy customers is not only the best form of flattery – it's one of the best ways to sell your handmade products. User-generated content (UGC) simply means sharing examples, images, testimonials, or social posts that come directly from your customers.
Encourage your customers to share their experiences using your products, and with permission, share their posts on your own Instagram to create FOMO and stoke excitement. It's the best kind of #humblebrag.
How to Make the Most Out of UGC:
Encourage customers to include an on-brand hashtag, so you can easily find and curate UGC posts. (Make sure to search Instagram first, to choose a hashtag that is not already in-use or off-message.)
Ask permission and cite the original poster/author. It pays off to respect customers' privacy, get explicit consent (in writing), and give original credit.
Be selective – share the best posts or new perspectives. If many of your customers compliment the same features, group those posts together in a story or carousel.
Theme 2 - Tell People Stories
The beauty of handmade is buying unique items from real people. Sharing a little slice of yourself with your online community helps you stand out and stay memorable.
Take a look at how @off.to.wander blends humor and a catchy tune to show off the not-so-pretty side of starting a small business.
If you're comfortable, balance product posts with content sharing your values, backstory, and experiences as a seller. Bring your customers behind-the-scenes at events, like selling at farmers markets, crafting with club members, or attending small business get-togethers.
Don't hesitate to directly involve your audience. Q&A posts, videos, or even an Instagram Livestream is a great format to generate interest, while answering common questions about your business or craft. Take this a step further by adding Question Stickers to your Instagram stories (an interactive element that people click to type a question to you) and create content to answer these questions in the near future.
How to Tell Your Story - Post Ideas:
How you started in your craft and honed your skills
Profiles of your teammates or vendors
Personal or professional wins, like growth milestones or nailing a new technique
Quotes or inspiration that cause reflection in your craft community
Behind-the-scenes looks at your workspace, farmers markets, pop ups, galleries, or other events
Your family, values, or your "why"
Theme 3 - Give a Process Sneak Peek
Behind-the-scenes content showing the craftsmanship built into a finished product is deeply personal and engaging, both for customers with and without experience in your craft.
For example, see how @imnotu shares the sewing process to create his tufted cushions and describes how individual each item is in the post description.
Here are a few ideas to immerse customers in your process:
Time Lapse Videos – Time Lapse videos show a sequence of events in fast-motion. By taking a series of photos or a video of your work and speeding it up, your customers experience the creation process from start to finish in superspeed.
This technique isn't limited to product creation. Riff on this theme with time lapse videos showing you wrapping or packaging orders, sourcing materials, or a craft fair replay.
Works in Progress – Bring people into your process by showing how a product comes to life in all-stages of creation. Cash in by offering product preorders!
Livestreams – Instagram makes it easy to go "Live" and broadcast yourself in real-time. These broadcasts can be off-the-cuff or scheduled and give you an opportunity to sell directly to your audience.
How to Host an Engaging Livestream:
Talk about product details – the ingredients or materials you use; techniques you prefer; uncommon ways to use products; overlooked benefits or misconceptions.
Champion your community – promote your vendors, highlight customers, or shine a light on other makers in your craft community.
Mini tutorials – teach others' how to get started with your craft or try a new technique
Not into livestreaming? Share tutorials in an Instagram reel or series of photos. Tutorials make great evergreen content (content that can be shared frequently throughout your content calendar) and help grow your crafter community.
Theme 4 - Create Urgency with Instagram Promotions
Creative promotions motivate Instagram browsers to buy from you now.
Decide the selection of promotional products and note your current inventory, so in the worst case/best case scenario, you don't run out of sales items. Then, decide the price adjustment you're comfortable with, without negatively impacting your sales margins.
Finally, create a few Instagram posts in advance to promote your sale. In the post description, clearly state how long the promotion runs, how customers participate, and any other logistics (like limited supplies, shipping specifications, or geography limitations).
Promotions come in all flavors, but a few popular ideas to try:
Seasonal or Holiday Specials
Your Instagram posts remind customers your products make the perfect gift.
Take the guesswork out of deciding what to post by creating a theme or series, like the "Twelve Days of Christmas", Small Business Saturday Steals, Holiday Gift Guide, or Summer Specials, and create multiple posts to promote the theme.
Have you ever seen a more delicious-looking candle than this Mother's Day promotion from @sunhavenco_ ?
Discounts or Sales
The feeling of getting a deal is an unbeatable shopping high and an effective way to urge consumers to try a new seller.
How to Get Creative with Discounts - Try:
Percent-off discount, like 20% off
Buy-one-get-one-free (BOGO)
Seasonal clearances
Free or discounted shipping
Audience-targeted offers, like discounts for teachers, hospital workers, or other audience groups
Get Them in the Door - Instagram Giveaways
Hosting a product giveaway builds excitement and persuades new customers to try your products.
Typically, an Instagram giveaway sets specific guidelines for customers for the chance to win a particular handmade product.
By encouraging customers to share the post, giveaway hashtag, and a comment to enter the giveaway, you're starting a conversation with your customers and setting your post up to spread. This is a great way to grow your following and get new customers.
We love how @thesoapmason creates excitement for their Prize Box by sharing the benefits of their unique bath bombs and guidelines on how to participate.
Save yourself a headache by clearly stating giveaway guidelines, rules, and expectations in your post description. Set a clear start and end time for the giveaway, based on your audience size and product availability.
Finally, maximize the promotion by asking winners to share a photo of themselves with their reward.
Make Your Instagram Feed Shoppable
Supporting the craft community and growing your followers is super valuable, BUT, how do you turn these connections into sales?
Ignore the advice that you NEED a website to become profitable online – this myth is dated and a costly and complicated suggestion for many makers. Ultimately, all you need is the right checkout tool to take orders directly from your Instagram account.
If your goal is to simplify the sales process and free yourself to focus on creating, a DM storefront is the fastest, most personal option for selling handmade goods.
Setup a DM Storefront to automate orders
A DM Storefront, like Paloma, will automatically send product info and take orders from customers directly in your DMs.
We know that so much product discovery happens in Instagram – it's where your customers are spending their time and the first place they'll see your new products. Putting the checkout right in Instagram makes it easier for them to buy, which also makes them more likely to buy.
Your customers get a fast checkout experience (within the app they use and love), while you're free from manual and time-intensive checkout flows, like trading Venmo's.
Our favorite part? Unlike Instagram Shops, it doesn't require a website, so you're able to get setup quickly and easily, and typically at a much lower cost.
Watch the video below to see an example of a store with Paloma setup as their DM Storefront:
Ready to Start Selling?

As a creator, turning Instagram into a sales channel can be overwhelming, but don't let that hold you back! No matter what, try to keep it simple and fun and your comfort and confidence will grow.
The result is well worth it: you'll gain a community, fanbase, and sales, while creating more time to do what you love.
Ready to go deeper into best practices for photography, creating a style guide, analytics, and more? Check out our full guide to Selling anything on Instagram.