With Facebook prioritizing the Messenger ecosystem, more and more brands are running Facebook ads known as Click-to-Messenger ads. Whenever new marketing opportunities like this become available, it's important to know how to measure success. In this case, we can measure these new campaigns against your existing campaigns that Click-to-Site.
For background, Click-to-Messenger ads look almost identical to normal Facebook ads. They run in standard placements like the Facebook and Instagram feeds, but, when a customer clicks on them, they are deep linked into Facebook Messenger instead of being taken to a website.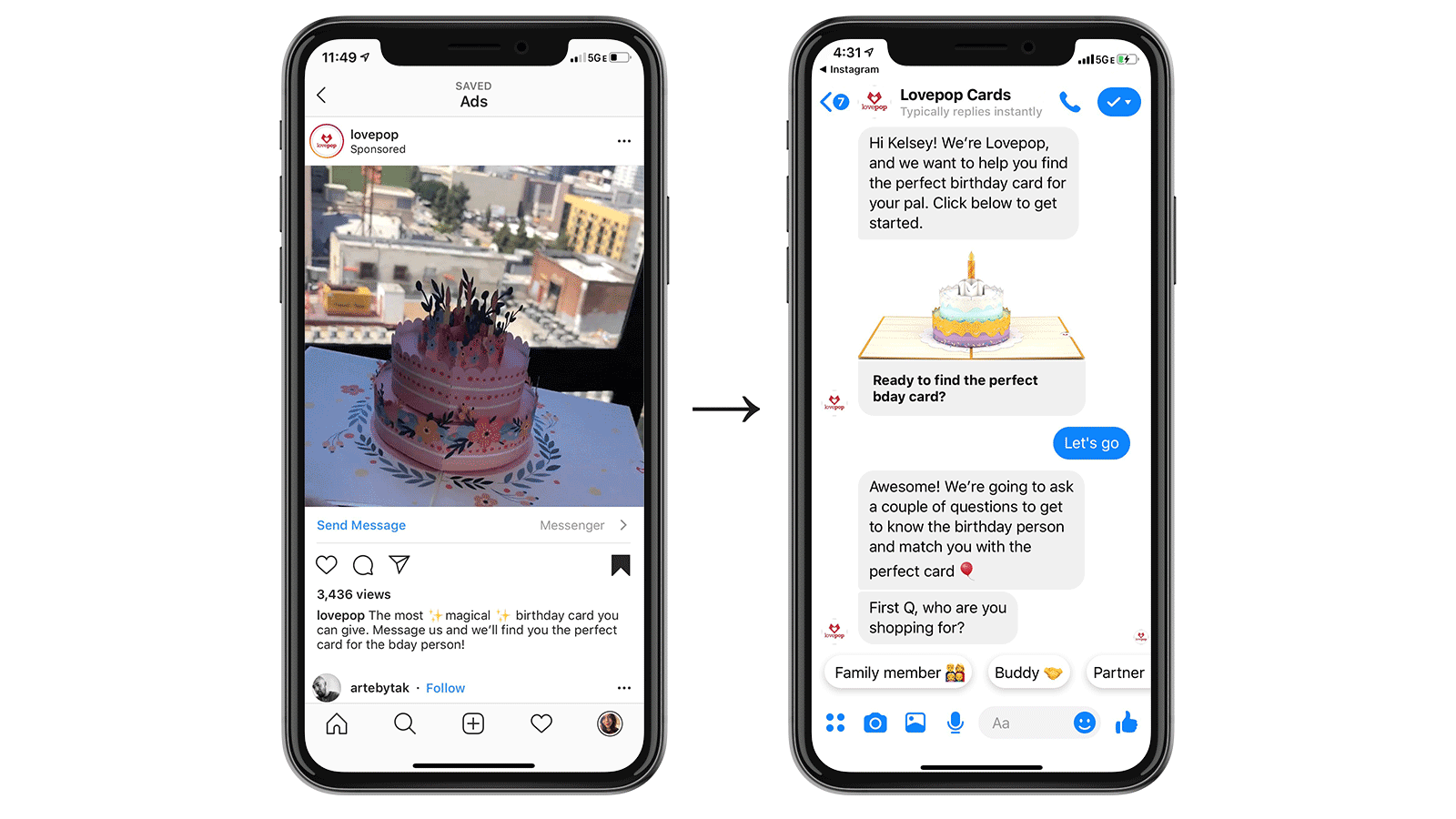 Why Click-to-Messenger
There are lots of benefits to this type of campaign:
Decreased acquisition costs (up to 50%!)
Higher conversion rates (2-3X over site)
First-party customer data (tons of it)
A new, direct-channel audience for re-marketing
At Paloma, we run these Click-to-Messenger campaigns with some of the best paid social marketers (LOLA, Plated, Lovepop, Dia&Co and more) and have created a system for measuring performance over time.
First, we look at existing measurement strategies and benchmarks, then translate them to this new customer journey.
In this article we'll break it down step-by-step:
Reviewing your Click-to-Site benchmarks
Mapping your Click-to-Messenger funnel
Applying your Click-to-Site benchmarks to your Click-to-Messenger funnel
Interpreting your Click-to-Messenger performance
Let's dive in!
Step 1: Review your Click-to-Site benchmarks
Before we can know what success looks like in these new campaigns, we need to know what success looks like in your existing campaigns.
Most e-commerce businesses are running Facebook Campaigns with the Conversions objective, using the Facebook Pixel to track performance through purchases. So for our example scenario, we're going to be an e-commerce brand running this type of campaign to a prospecting audience.
Running these campaigns, a paid social marketer is usually responsible for one key metric. Typically that would be CPA or ROAS (depending on the business).
To understand what is or isn't working about a campaign, we look at the entire funnel to understand what points along the customer journey are weak or strong:
Entry (Facebook Ad) – CPM, CTR
Entry (Website) – Bounce Rate
Mid-funnel (Website) – Page Views
Bottom of funnel (Website) – Add to Cart Rates
Bottom of funnel (Website) – Purchase, Conversion Rates
You're a pro at running these ads, and know your customer journey top to bottom – so start by listing out your benchmarks for each of these metrics. We'll use some sample data to start with:
Ad CPM: $8
Ad CTR: 2%
Website Bounce rate: 75%
Add to Cart rate: 20%
Conversion rate (from ad click): 3%
CPA: $25
While your core click-to-site prospecting campaigns aren't focused on email capture, we also want to take a look at your benchmarks there to compare with Messenger opt-in capture. To keep it simple, we'll use this scenario:
Step 2: Map your Click-to-Messenger funnel
What most people don't realize is that the Click-to-Messenger customer journey is really similar to a Click-to-Site experience. We start with an ad, take the customer through a shopping experience, and then they can add to cart and checkout.
But there is one big difference between a Messenger user and a Website user: A Messenger user can be re-marketed to within the same channel. While your key metric (CPA or ROAS) doesn't need to change, we do want to acknowledge the added value of the Messenger subscription as compared to Email subscription.
Here's your Click-to-Messenger campaign funnel:
Top of funnel (Facebook Ad) – Clicks, CTR
Top of funnel (Messenger Welcome Message) – Bounce Rate, Cost Per Messenger Subscriber
Mid-funnel (Messenger Conversation) – Completion Rate, Product CTR
Bottom of funnel (Website) – Add to Cart Rates
Bottom of funnel (Website) – Purchase, Conversion Rates
Step 3: Apply your Click-to-Site benchmarks to your Click-to-Messenger funnel
To understand the comparison, we take your click-to-site metrics and apply them to your Click-to-Messenger funnel. Using the above example, that would look like this:
Ad CPM: $8
Ad CTR: 2%
Messenger Bounce rate: 75%
Cost Per Messenger Subscriber: $12
Messenger Completion rate: ___
Add to Cart rate: 20%
Conversion rate (from ad click): 3%
CPA: $25
You'll see that we have a metric for just about everything, except for the Messenger Conversation's Completion rate, which is a new performance value that gives us better insight into the campaign's performance. Campaigns run with Paloma see ~70–80% here.
Step 4: Interpret your Click-to-Messenger performance
Now that you have a starting point with your performance measurements, you can run a campaign!
Because we've worked with a wide variety of brands and verticals,  we have benchmarks for Click-to-Messenger Funnels across the board. Below is a scenario based on the Click-to-Site Funnel we have above, that we might see at the beginning of a campaign:
Ad CPM: $10
Ad CTR: 1.5%
Messenger Bounce rate: 50%
Cost Per Messenger Subscriber: $8
Messenger Completion rate (from Opt-in): 80%
Add to Cart rate (from ad click): 40%
Conversion rate (from ad click): 8%
CPA: $30
In this scenario, if we look at just the CPA, we'll see that it's costing us more than our Click-to-Website ad. However, if we compare the full funnel against Click-to-Website, we can see that the weakest link is around the ad itself – with a higher CPM and lower CTR – and that the mid and bottom-funnel performance is much better.
The reason? Messenger provides higher quality shopping experiences, in a more intimate and focused space then a website. It's like walking into a store and getting a great experience with a sales rep. It makes these customers more likely to buy.
So with this data we know that by improving the creative or audience on the ad side – aka getting the customer into the store – this campaign could outperform Click-to-Website easily. Plus you get two bonuses:
Your Cost Per Messenger subscriber is lower than Cost Per Email subscriber, and you can directly re-market in Messenger which we know outperforms Email
Your Messenger audience can be used to create a higher quality lookalike audience
If this were a starting point for a Click-to-Messenger campaign, we'd be pretty happy with it – and we know how we can improve it!
Takeaway
It's important to note that, while the funnel for a Facebook ad that clicks into Messenger can be directly compared against the funnel of a Facebook ad that clicks into your website, the metrics themselves are not entirely 1:1. Your Messenger audience is higher quality – being 2–3X more likely to convert – and by capturing it at a lower cost compared to your Email audience, you've opened up a new, high-performing marketing channel to directly communicate in.
We don't expect to see matching performance on these campaigns right away – they're new and need some ramp up time. But by looking at the full funnel, we can identify lots of opportunity to improve the outcome dramatically. And because most of the funnel happens in Messenger, we have more control over the testing and iteration process at each step along the way.
Facebook is prioritizing Messenger more and more – a result of consumer growth in messaging channels – so it's important to figure out how to make this channel work for your brand now. Customers will appreciate your dedication to providing them with a higher quality shopping experience, and because Messenger is growing more rapidly than social, the long-term opportunity is massive.
---
Interested in running your own Click-to-Messenger campaign test? Fill out the form below, or give me a shout at kelsey@getpaloma.com 💌

We'll share a custom demo based on your current Facebook campaigns – totally free – and can get you live in as little as a week.