New from Paloma: Instagram Sales Inbox to Help Businesses Sell Through DMs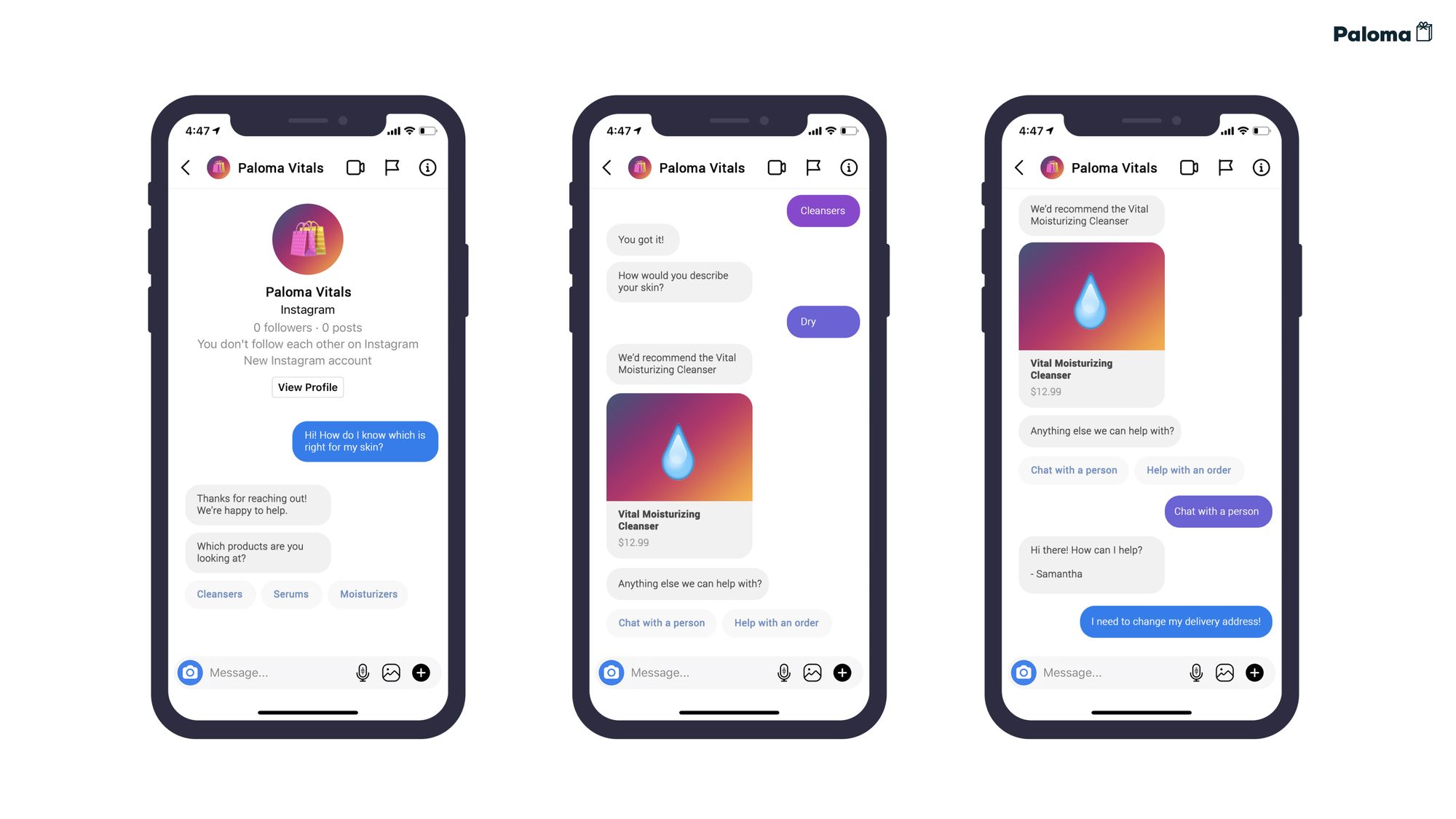 At Paloma, we've been helping e-commerce businesses sell through Facebook Messenger for years. In this time, we've discovered that selling directly to customers converts better than selling through websites.
It's for this same reason that we now see new businesses find success by selling through Instagram DMs before they even open a website.
Which makes this announcement particularly exciting.
Today we're announcing the launch of Paloma's Instagram Sales Inbox, with Messenger API support for Instagram, to help businesses manage and scale their e-commerce experiences in Instagram DMs. This new addition to Paloma's technology suite, announced at F8 Refresh, enables brands to use Instagram Messaging as a scalable personalized shopping channel.
This launch comes on the heels of closing an oversubscribed $4M seed round led by Laconia Capital Group, with participation from leading e-commerce players, including Philip Krim from Casper and David Heath from Bombas, as we continue to bring e-commerce infrastructure to direct messaging channels.
Paloma's Instagram Sales Inbox is one of the key support integrations of the Messenger API for Instagram and will ensure that companies can drive revenue in this channel, by helping their customers get from first message to purchase.
"Until today, brands have had no scalable way to respond to the high volume of Instagram DMs they receive, missing out on opportunities to acquire and retain customers who are actively reaching out.

In today's increasingly competitive online commerce environment, brands now have an opportunity to directly influence customer purchase decisions, right where they are – including in their DMs. Paloma's Instagram Sales Inbox will open up an entirely new and powerful sales channel for businesses both small and large."

Kelsey Hunter, Founder & CEO of Paloma.
How it Works
Brands can connect their Instagram pages to Paloma, create automated responses to understand what a customer needs, and direct them to the best resources, products, and live agent support. Their inbox will be visible and managed in Paloma, while integrating seamlessly with customer support tools for live agent handover.
Key benefits of using Paloma include:
Qualify traffic: Routing customers quickly to the most relevant resources, products, and live agent support
Increase conversion rates: Helping customers determine what and why to buy through personal shopping conversations, influencing their decision-making process
Understand your sales funnel: Measuring results at every step of the conversations, including what products are resonating, and what's driving sales
Gather customers insights: Learning about customers behaviors, interests, and needs with deep analysis and tagging of customer responses

"We are thrilled that Paloma is launching Instagram Sales Inbox. The Messenger API for Instagram is now available for all developers who make it possible for brands to improve and enhance messaging experiences with customers," said Konstantinos Papamiltiadis, VP of Platform Partnerships at Messenger. "By integrating the Messenger API for Instagram, businesses and developers can effectively scale messaging workflows to better own the customer experience and build more authentic relationships."
Paloma first launched in November of 2017 and has quickly become the leader in Messenger for sales, consistently driving 3x or higher conversion rates and returns for customers. It works with top brands like Joybird, Lalo, M.Gemi, ThirdLove, Caraway, Thread Wallets, Framebridge and more.

Brands can sign up for Paloma's Instagram Sales Inbox here.